Chris Mound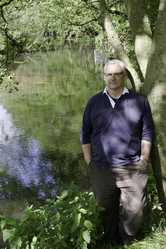 1973 – 1975 Ipswich School of Art
1975 – 1977 Central School of Art & Design
1977 – 1984 Studio Potter
1984 – 1996 Tapestry Weaver
Associate member Suffolk Craft Society
Member of Guild of Spinners and Weavers
1997 - Teaching and promoting art and craft as a therapeutic activity
2008- Printmaking
I live and work on the Suffolk bank of the river Waveney in the middle of East Anglia. I have a mixed history of creative endeavour. I started out studying Ceramics and then became seduced by Textiles, particularly Tapestry Weaving. I have also at times tried different methods of printmaking having maintained an interest since studying it at college.
Since 1997 I have been working in an environment where the focus is on helping other people to use their own creative abilities and in the course of this I have, quite recently, found a particular satisfaction in the craft of Woodcut printmaking as a means of expression.
The inspiration for my work is drawn from the natural world, particularly, though not exclusively, in East Anglia.
I use both traditional European and Oriental techniques, adapting them as appropriate to the subject matter. Most of my prints are woodcuts which are hand pulled from an adapted etching press, using oil based relief inks on Zerkal paper. Other pieces are hand printed with a baren, using water based inks on a variety of Japanese papers.
I use a reduction method on two to three plates to produce an edition, usually, of ten to fifteen copies of each print. I am happy to allow variations between prints and will sometimes deliberately promote this. The reduction method (which involves the progressive cutting away of the plates) ensures that no further impressions can be taken from that particular set of plates and the prints are numbered accordingly.